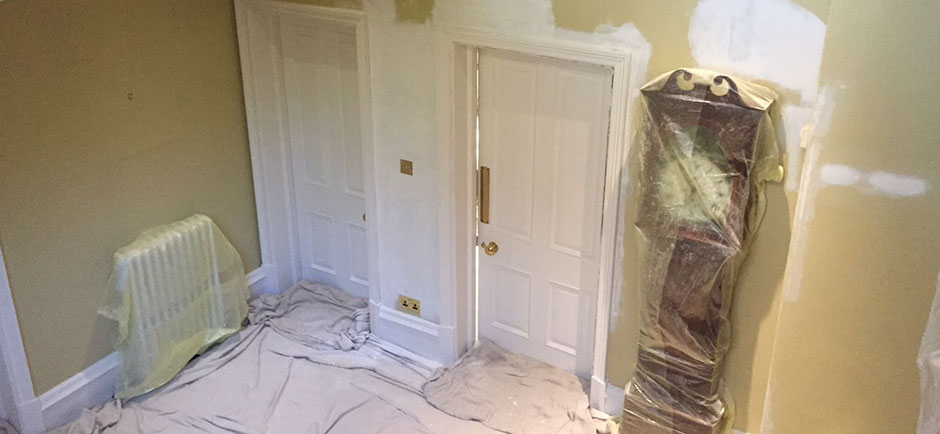 Restoration projects are a fine tightrope. On one end, you have the qualities and character of the original building to preserve; on the other, the sense of a fresh appearance, enlivening it for the age we're living in.
Bailey & Medd Decorators meet both of these concerns in the middle. We will plan, transform and finish your property, so that it falls in line with your restoration aims, whatever they may be.
Faithful Restoration Work
Period properties gain their character, in part, from the traditional techniques that distinguish both the interior and exterior décor. At Bailey & Medd, we take pride in delivering results that are in-keeping with original features, combining the latest tools and equipment with crafts honed over centuries.
Our bespoke service ensures that your property is faithfully restored from top to bottom. Specialist finishes, such as hand prints and gold leaf effects, can be applied with subtlety on any scale – nothing stretches our talents too far.
This expertise also covers gates, windows and fencing, which must have their elemental protection refreshed, as well as looking their best. By consulting with you every step of the way, we'll reinstate the grandeur of your stately home or venue.
Contractors You Can Trust
When dealing with restoration assignments – those that may include a Grade I or Grade II listing – mistakes count far more than usual. You need specially-trained decorators to know what they can and can't do with an esteemed building.
As City & Guilds accredited contractors, you can be sure that our team will treat your property as it deserves. Furthermore, we have over three decades' experience to draw from, so you know that you can count on our advice and guidance.
Need us to work with architects, plumbers, electricians, or any other part of your restoration team? Bailey & Medd can align our services to other aspects of your project, ensuring everything is completed on time, within budget and to the highest standard.
Bailey & Medd Decorators
Ogden of Harrogate approached Joel and Richard to install some beautiful bespoke-made wallpaper in our York shop, and to select Farrow & Ball paint of a suitable tone to complement it.  The work was carried [...]